Situated along the captivating golden sandy shores of Negombo, Jetwing Blue offers its guests delightful experiences together with luxury accommodation, boasting the only 5 Star classification in the area. Located in the Negombo city, on a pristine stretch of beach, Jetwing Blue encapsulates the splendor of this exotic town while exploring its tantalizing seafood.
The hotel boasts 120 spacious rooms defined by king sized beds commanding modern amenities such as plasma TV monitors, sumptuous bath, aligned make-up mirror, all set in minimalist contours of elegance and efficiency

Jetwing Beach is a landmark property of Jetwing Hotels. Designed by the internationally renowned Sri Lankan architect, Geoffrey Bawa, the hotel is a wonderful example of Sri Lankan design amidst a tropical paradise. The hotel lies nestled among the palm trees, along a beautiful sun- kissed beach in the coastal town of Negombo.
The hotel transports you to an ultramarine world of colourful interiors, where each of the 78 rooms open out to a large private balcony or the terrace which looks out on to the Indian Ocean. Star class comfort and plush living is what you can expect when you stay with us.

Jetwing Sea, born from the legendary Jetwing Sea-shells, that enchanted you over the years with all those visions of romance and languorous encounters that defines the sea as it must be experienced resides in laidback Negombo. This enchanting property is a peaceful retreat by the magnificent Indian Ocean offering genuine Sri Lankan hospitality and contemporary elegance while blending perfectly into Negombo island life.
In the privacy of your room, spacious spaces beckon with king sized beds that offer an ethereal slumber. Well-appointed features will offer you facilities such as wall mounted TV monitors, a well-stocked mini-bar, tea & coffee service and a private terrace or balcony. All 83 rooms boast ocean views.

Experience the perfect respite at Jetwing Lagoon, an Ayurveda and spa resort with a difference. Located next to the tranquil Negombo Lagoon and facing the Indian Ocean with beach access, it is an elegant and chic hotel which has the distinct privilege of being one of Geoffrey Bawa's original creations.
Boasting the longest pool in the west coast complimented by a spa and sporting activities in the lagoon, this is the ideal location to rest, relax, and energize in the privacy of your spacious individual rooms. It is without doubt the finest spa resort by the Negombo Lagoon.
The rooms are all furnished in warm earthy hues of brown and maroon, with a minimalist yet luxurious feel. The 50 rooms and 5 suites also provide a choice of lagoon or pool view.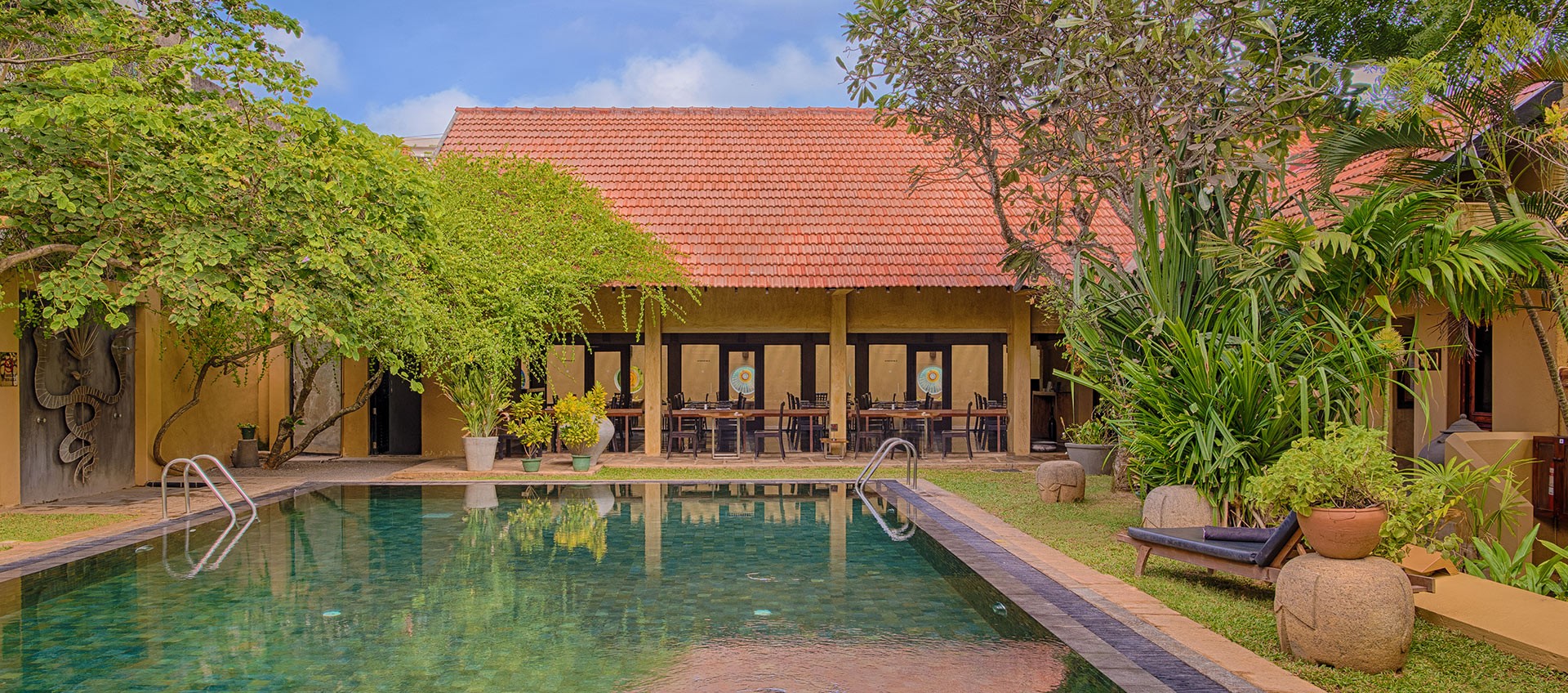 Jetwing Ayurveda Pavilions has 12 luxury pavilions and 24 rooms, and is an exclusive health retreat that ensures maximum privacy. The idyllic resort is designed for individuals seeking in-house Ayurveda therapy in a serene and secluded surrounding. Special Ayurvedic meals and beverages for wellbeing are prepared by our specially trained chefs and prescribed by our in-house Ayurvedic doctors.
The therapeutic benefits of this ancient eastern science is now appreciated across the world and our resort offers you professional Ayurvedic treatments by qualified personnel to give you the greatest benefit. A stay at our Ayurvedic resort will help you rejuvenate your mind, body and soul.
Every aspect of the property exudes peace, calm and a soothing atmosphere. The rooms are purpose built to ensure guests derive maximum benefits of this traditional therapy.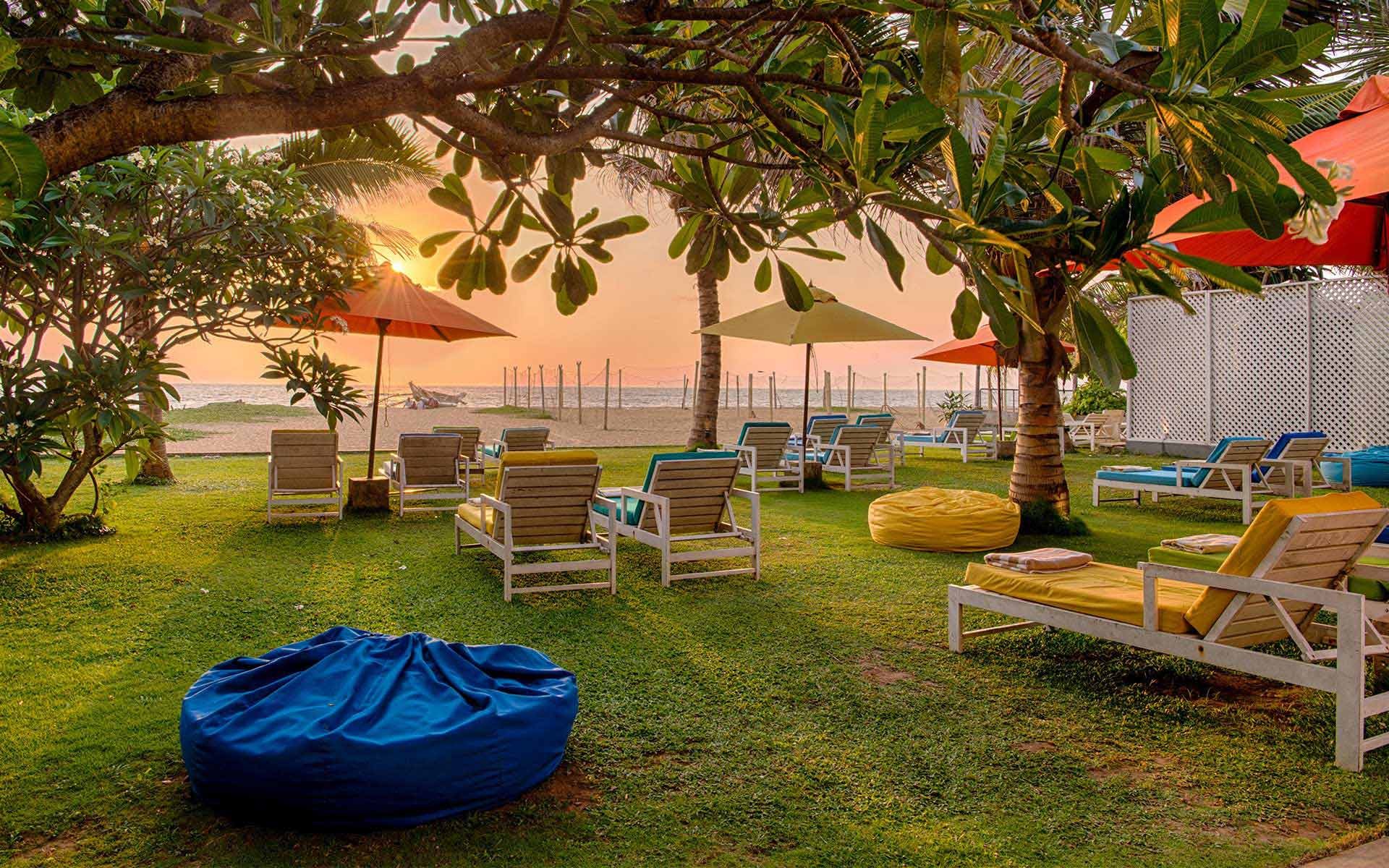 Hotel J, situated on the golden sands of laidback Negombo is a peaceful retreat that offers a warm welcome and convenient facilities for leisure travellers. The property by the magnificent Indian Ocean offers friendly service and spacious accommodation while blending perfectly into Negombo island life.
Choose between our spacious family suite, sea view and non-sea view rooms to suit your budget. Warm, welcoming and modern, our 35 comfortable rooms have well-appointed features and offer you facilities such as TV, air conditioning and fan.